Cortical Plasticity and Human Brain Mapping Laboratory
Head of Laboratory: Laura Petrini, Associate Professor (LAP) and Federico Arguissain, Assistant Professor (FGA)
This lab is affiliated to the Integrative Neuroscience Research Group
Aim
The aim of the Cortical Plasticity and Human Brain Mapping Laboratory is to investigate the organization and reorganization of the sensory and pain systems using high-density EEG recordings. The main research area is oriented to develop and apply quantitative techniques to investigate pain experimentally and assess the brain responses in experimental and clinical studies.

High-density 128ch recording of EEG and topographical and dipole locations samples of SEPs in a pain experiment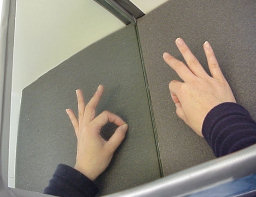 Main Research Areas
Neuropsychology and psychophysiology of pain
The general question is to understand the neuropsychological and psychological mechanisms in the central nervous system that are involved in the conscious experience of pain and to relate the implications of these mechanisms to clinical pain states. Illusory phenomena (such as thermal grill illusion and mirror illusion) are examined.
Experimental model for cortical reorganization using conditioning electrical stimulations (LTP/LTD)
The aim is to study the temporal and topographical dynamics of cortical activity to long-term pain experiences and testing the hypothesis of somatosensory pain memories by using high-density EEG recordings. Experiments are carried out on both chronic pain patients and healthy volunteers.
Pain and Cognition
The aim is to analyze the effects of attention/distraction on the EEG rhythms in the expectancy of pain. The investigations are based on the analyses of the EEG synchronization (ERS) and desynchronization (ERD) of alpha rhythms.
Spatial analysis of EEG
The aim is to develop novel methods for spatial analysis of EEG that have the potential of automating the analysis of event related potentials.
Key Collaborators
Claudio Babiloni, Department of Human Physiology and Pharmacology, University of Rome "La Sapienza", Rome, Italy
Ruth Defrin, Department of Physical Therapy, Sackler Faculty of Medicine, Tel Aviv University, Tel Aviv, Israel
Massimiliano Valeriani, Pediatric Hospital, Bambin Gesu', Rome, Italy
Rigmor Jensen, Dansk Hovedpine Center, Glostrup County Hospital, Copenhagen, Denmark
Christina Liossi, Department of Psychology, University of Southampton, Highfield, Southampton UK
Jörg Trojan, Dieter Kleinböhl, Rupert Hölzl,Otto Selz Institute for Psychology and Educational Science, Laboratory for Clinical Psychophysiology, University of Mannheim, Mannheim, Germany
Herta Flor, Department of Cognitive and Clinical Neuroscience, Central Institute of Mental Health, University of Heidelberg
Location
Fredrik Bajers Vej 7D, 3-109