Drug Screening and Human Pain Research Laboratory
Head of Laboratory: Lars Arendt-Nielsen, Professor (LAN)
Aim
To
apply human experimental pain models in basic and clinical investigations of analgesic efficacy of new/existing drugs and procedures,
provide "proof-of-concept" studies of new substances with potential analgesic actions,
combine experimental and clinical pharmacological pain studies.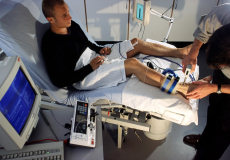 Main Research Areas
Multi-modal, multi-tissue pain induction and assessment.
Drugs have different effect on pain from different structures (skin, muscle, viscera) due to the different anatomy, physiology, and biochemistry of the pain systems sub-serving these structures. In addition pain is a multi-dimensional perception and hence it is necessary to combine different experimental pain stimulation and assessment approaches (multi-modal assessment) to secure a differentiated understanding of the nociceptive system and its modulation under influence of analgesic substances and/or procedures.
Sensitisation: Experimental and clinical studies
Central phenomena like hyperalgesia and allodynia can be mimicked by different experimental models and repeated stimulation, inducing temporal summation, resembles wind-up in animals. Effect of analgesic substances on such phenomena arising from different tissues is important predictive parameters in studies in either healthy volunteers or in patients.
Proof-of-Concept Studiess
The differentiated information of the drug effect on different pain modalities/mechanisms/tissues obtained from experimental studies can be used as "proof-of concept", dose-efficacy analysis, and for designing further clinical trials. The information gained from experimental studies can be predictive for which clinical conditions a given drug/procedure is efficient (e.g. musculoskeletal pain, neurogenic pain, visceral pain) and hence, may be used to target the right clinical condition in future studies.
All experiments are performed according to the international GCP and phase I studies can be performed.
Expert advisory committees
Key researchers from the laboratory act as experts in advisory committees for major international pharmaceutical companies. Advise may concern 1) development programs for new analgesics, 2) translational pain research, 3) human proof-of-concept models, 4) human experimental and clinical pain studies, 5) bio-markers in drug development and 6) training for staff in assessment of pain.
Key Collaborators
The laboratory invites collaboration with the pharmaceutical industry. Collaboration encompasses numerous international pharmaceutical companies all focusing on proof-of-concept studies. All drug studies are done in collaboration with C4Pain a research based CRO focusing exclusively on evaluating new analgesic and anti-inflammatory compounds.