Experimental and Clinical Visceral Pain Laboratory
Head of Laboratory: Lars Arendt-Nielsen, Professor (LAN)
Aim
The aims are to
develop new experimental methods to evoke and assess visceral pain in volunteers and patients to gain more insight into the visceral pain system,
study experimentally induced visceral hyperalgesia in volunteers,
study visceral hyperalgesia (true visceral hyperalgesia, viscero-somatic hyperalgesia, viscero-visceral) in patients with chronic visceral pain.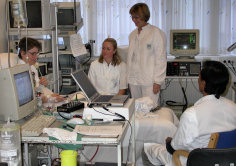 Main Research Areas
New methods are developed using advanced technology and tested before being introduced to volunteers and for human diagnostics. The assessment of the experimentally induced pain is performed using psychophysical (questionnaires, pain intensity scales) and neurophysiological (brain imaging, EP, EEG) methods.
Human volunteers studies
Methods are developed to evoke pain from most parts of the human gastrointestinal tract in healthy volunteers. The pain stimulation can be electrical, mechanical, thermal or chemical, (multimodal) and the methods can be combined with experimentally evoked allodynia / hyperalgesia by perfusion of e.g. acid or capsaicin.
Clinical studies
The multimodal pain stimulation technologies are applied to chronic visceral pain patients (e.g. pancreatitis, IBS, esophagitis) to assess the excitability of the visceral pain system.
Brain studies
High resolution EP/EEG studies are performed in healthy volunteers and patients to investigate brain processing of visceral painful stimulation. This is done together with advanced processing techniques related to mapping and source localization.
Drug studies
Advanced methods are being developed to screen the effect of new and old analgesic compounds on visceral pain. Proof-of concept efficacy studies can be done in healthy volunteers and in patients.

Key Collaborators
The research group is closely linked to the visceral pain and biomechanics at Aalborg Hospital.
Klinik und Poliklinik für Anästhesiologie, Inselspital / Universitätsspital Bern, CH-3010 Bern, Schweiz (prof. dr. Michele Curatolo).
Pain Centre, Department of Anaesthesiology, Radboud University Medical Centre Nijmegen, NL-6500 HB Nijmegen, The Netherlands (dr. Oliver H.G. Wilder-Smith)