Head of RIG: Ole Kæseler Andersen, Professor (OKA). — Intranet Access
Objective
The group conducts experimental research in animals, healthy volunteers and patients related to the understanding of cognitive neuroscience, neuropharmacology, sensory-motor neuroscience and its potential use in rehabilitation technology.
Research Strategy
Our research is focused on the neural processing of sensory input using a translational research approach. This includes studying the spinal mechanisms and cognitive aspects of experiencing different sensory stimulation paradigms. We use sophisticated electrophysiological techniques and advanced psychophysics. Moreover, neuronal plasticity in spinal and cortical sensory-motor processing and its functional implications are investigated. The research group has a special focus on experimental pain research, pharmacological modulation, and rehabilitation technology.
The Integrative Neuroscience group consists of specialists from the Biomedical Engineering, Psychology, Neuropsychology, Pharmacology, and Biophysics fields. The interdisciplinary character of the group enables us to holistically approach applied as well as fundamental research questions.
Teaching and Training
Members of the group teach at Ph.D. level in The International Doctoral School in Biomedical Science and Engineering, and at bachelor and master levels in the Biomedical Engineering and Informatics, Medicine with Industrial Specialization, Product and Design Psychology, Sports Sciences, and Clinical Science and Technology programs. The scope of the courses includes electronics, instrumentation, data acquisition, physics, bioelectricity, neuropsychology, biological psychology, research methodology and scientific communication, mathematics for engineers, biostatistics, pharmacology, neurophysiology, and rehabilitation technology
Innovation
The group collaborates with a number of private companies including Nordic NeuroSTIM Aps, TKS A/S, Neurodan A/S, Medtronic, and C4Pain/CCBR A/S, and University College Nordjylland.
Senior Members
RIG group picture May 2016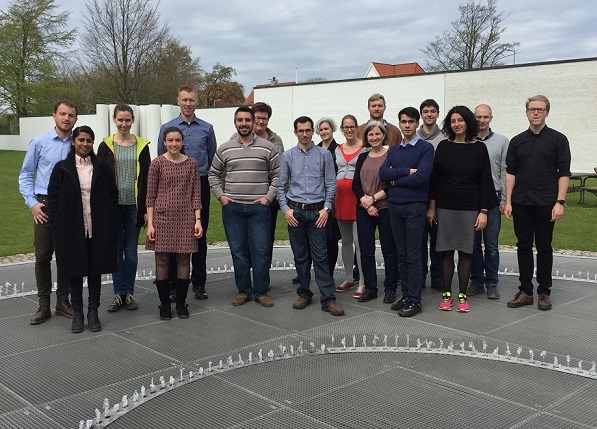 From left to right: Federico Arguissain, Neeraja Sri Murugan, Tatiana Hoberg, Parisa Gazerani, Ole Kæseler Andersen, Fabricio Ariel Jure, Birthe Dinesen, José Biurrun Manresa, Lotte N. S. Andreasen Struijk, Suzan Meijs, Erika G. Spaich, Søren Leth, Mohammad Reza Naeemabadi, Alessandro Ranieri, Laura Petrini, Carsten Dahl Mørch and Mikkel Thøgersen. Not present in the photo: Christian Bernt Laursen, Daniel Simonsen, Eric Kassebaum, Rosa Hugosdottir, Steffen Frahm, Weiwei Xia and Yousuke Mori.
Affiliated labs